Her character is always modest and stylish
Drew Barrymore, the 48-year-old Hollywood actress, made a stunning entrance in an elegant all-black ensemble. With a career that began at just 11 months old, Drew grew up in the spotlight, facing the challenges that come with being part of a renowned showbiz family and a public figure. She has overcome struggles with addiction, depression, and spent time in rehabilitation, emerging victorious and thriving in her personal life.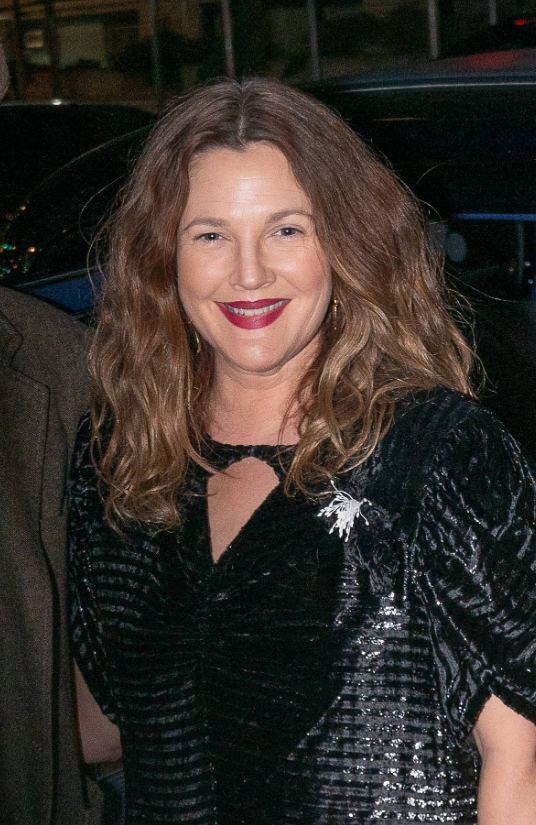 Drew exuded timeless elegance as she attended the Kennedy Center in Washington DC to support fellow actor Adam Sandler, 56, who was receiving the prestigious Mark Twain Award in comedy. She chose a black dress that radiated glamour with its off-the-shoulder design, sheer inserts, and cascading floor-length skirt. Delicate floral lace embellished the bodice, complemented by a charming bow around her neck. Drew proudly showcased her vibrant look on the red carpet, completing her ensemble with voluminous earrings adorned with sparkling stones, a sophisticated watch, and eye-catching rings. Last year, she went through a divorce from her third husband, adding an air of renewed independence to her appearance, highlighted by a patent leather belt and a dainty clutch.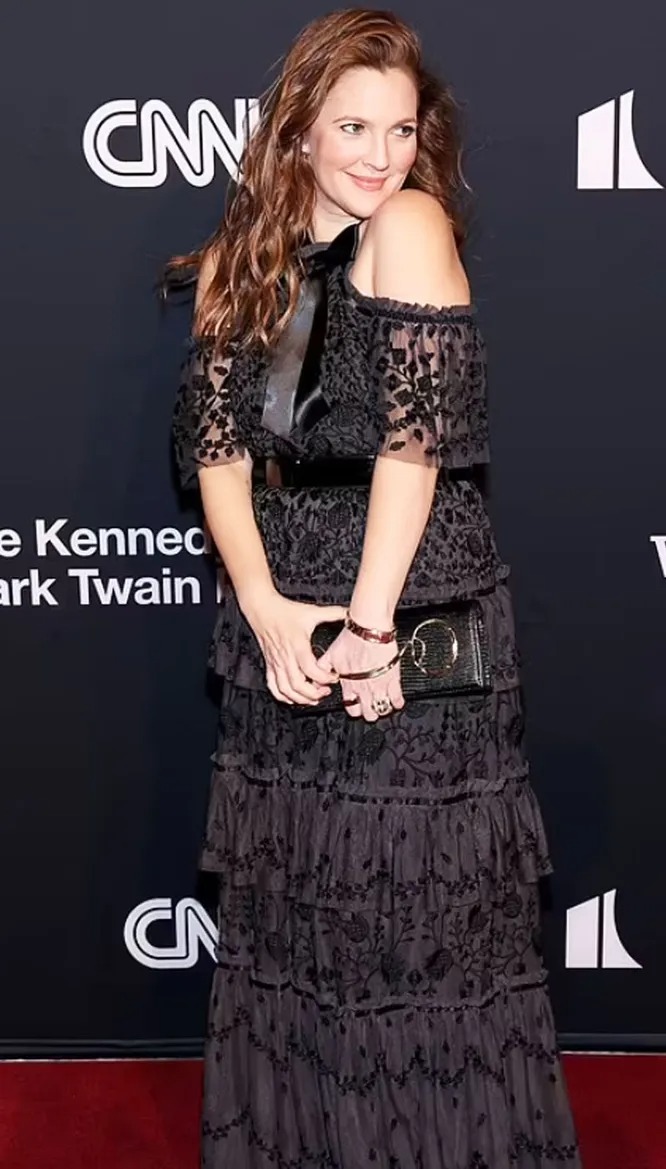 Drew's presence at the event was particularly meaningful as she and Adam Sandler have delighted audiences for over 20 years with their on-screen chemistry in films like "The Wedding Singer," "50 First Dates," and "Blended." She was thrilled to witness Adam's triumphant moment at the award ceremony. Fans of Drew Barrymore celebrated her rare public appearance, expressing their admiration in the comments section. One fan wrote, "I grew up watching Drew's movies. How is it that I'm already gray while she remains so beautiful?" Another commented, "She looks absolutely gorgeous, defying her age." The comments overflowed with love and appreciation for Drew's ever-flirtatious and mischievous charm.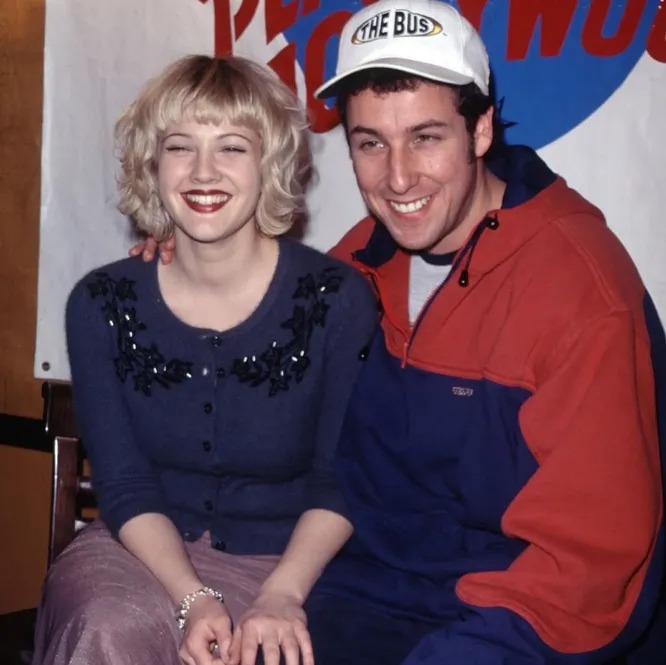 Adam Sandler arrived at the ceremony in a dark gray pinstripe suit, accompanied by his wife Jackie, who wore a vibrant pink pantsuit with matching heels. The acclaimed actor received support from a star-studded lineup including Jennifer Aniston, Ben Stiller, Chris Rock, Pete Davidson, and other Hollywood luminaries. As Adam took the stage, the audience rose to their feet, offering a thunderous applause.
Adam Sandler proudly joined the esteemed ranks as the 24th recipient of the Mark Twain Award, joining comedy legends like Richard Pryor, Eddie Murphy, and Whoopi Goldberg. With an impressive filmography boasting 57 movies and worldwide box office revenues surpassing $3 billion, Adam's comedic genius has made an indelible mark on the industry.